How to Protect Your Zoom Event Security
How to Protect Your Zoom Event Security
This articles applies to: All SC&I faculty and staff
Pre-requisite(s): Faculty and staff of School of Communication and information with existing Zoom account
For Faculty and staff of School of Communication and Information with existing Zoom accounts
For information about how to use Zoom, please visit this page.
How to keep uninvited guests out of your Zoom event:
Navigate to zoom.us/profile.
Click Meeting tab from the left pane. Then click on Schedule a Meeting.
There are a few things you can do to present the so-called "Zoom Bomber" from crashing into your meeting. You do not have to use all of them. Just select the option that best fits your usage case.
Enable advanced registration, so only registered guest can attend the meeting.
Enable the meeting password.
Require the guests to register with Zoom. Requiring account does not mean that they have to have a paid account but does require that the participant create an account.
When the meeting starts, click the arrow next to the Sharing button. Change "Who can share?" to Only Host.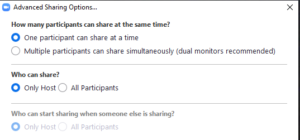 For more information and best practices, please visit: